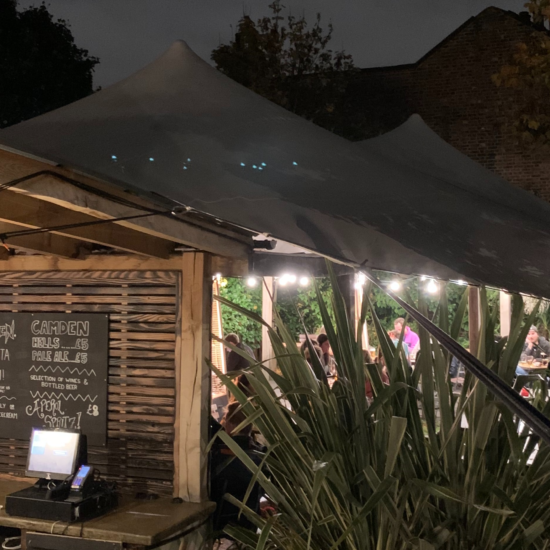 As we finally and begrudgingly say goodbye to the summer sun and welcome the colder, wetter and drearier evenings, we decided that this year at our Leytonstone pub we wouldn't let the weather stop our locals from enjoying spending time with friends and family. General Manager Mark Bowles has told us why this tent was a much-needed addition to our garden:
When did this fantastic tent first arrive in our garden Mark?
In anticipation of a long cold Winter, we decided we would try and do our part to provide a safe space to accommodate the local community to socialise together during these difficult times – and will continue to do so with our new tent right through until Spring!
How many people does it now additionally cover?
Our outdoor space is now 70% covered and all spaced inline with current Government guidelines. We'll adapt as we go but we aim to seat as many people outside in a dry and heated environment as possible! (Did we mention that we have heaters out there too!) We're also in the process of renovating upstairs to provide more seating for single households and "Bubble" groups throughout the year!
We've alluded to it earlier but does it have heaters? How Many? 
We have heated as much of the area as possible with electric heaters and invested in some Gas Heaters for the back of the garden, so fingers crossed wherever people sit – they will feel the benefit of our heaters.

We strongly advise people to book ahead to avoid disappointment as we're filling up fast – our bookings team can assure you get the space you're after!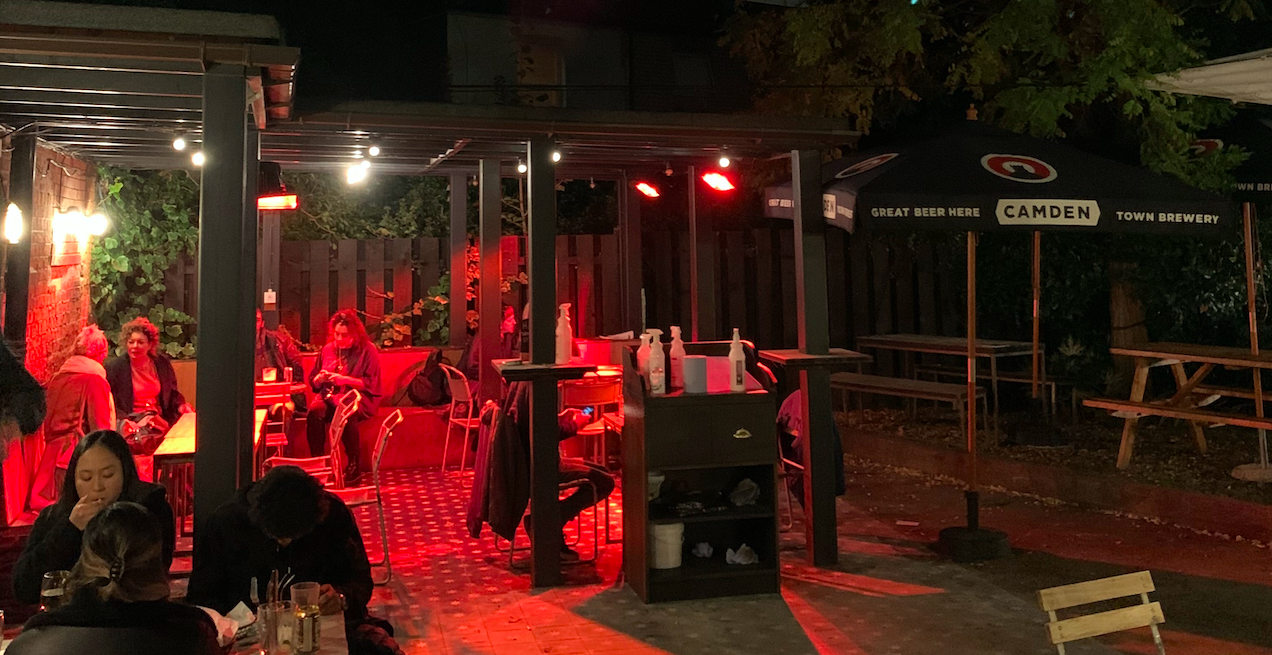 Why do you think the people of Leytonstone should drop in?
We're fully committed to our local community and want to make sure they can continue to have a comfortable and safe pub experience despite these trying times. Regardless of our size we still see ourselves as a friendly local Leytonstone pub and we aim to continue that service while keeping both guests and staff as safe as possible! Our outdoor bar will also be open on Friday/Saturdays with a range of beers, wines and spirits.

We've also banged on about it – but there is also our app which allows customers to order food and drinks directly to your table while collecting loyalty points that can be cashed in against future purchases (and we'll shout you a bottle of fizz on your birthday!).
Finally Mark, Will there be any events in the coming weeks?
 We have our Winter Cider Festival on the 5th-8th November where you can come along and try lots of different ciders as well as our weekly Pub Quiz now outdoors so mixed households can partake!
We want to get our calendar of events back up and running so make sure you watch this space for more upcoming events!
We hope our little chat with Mark has enticed you to book a table in our garden – if you haven't already. If you would like to keep up to date with everything that's happening at our Leytonstone pub make sure you follow us on Instagram @Heathcotestar and sign up to our newsletter (you can find the box for that on our homepage.